Ten Best iOS Games of 2011 (Jan. to Jul.)
In the past couple of months, several very interesting new games came out that require the usage of puzzles and games that have very unique graphics. Here are ten games that intrigued me, but also excel in graphics, musical score, and storyline.
Superbrothers: Sword and Sorcery EP
Developer: Capybara Games Inc.
Price: $2.99 (iPod Touch and iPhone), $4.99 (iPad)**
This game is just great. It has great, unique, graphics combined with a killer audio track. It has an excellent storyline and the interface is superb. This is one game that I liked all around. The engrossing story will keep you hooked on it for hours, maybe days.
World of Goo
Developer: 2D Boy
Price: $2.99 (iPod, iPhone) and $4.99 (iPad + universal)
**This game received MetaCritic's highest rating of all time…98. So you can anticipate this game is going to be great.
I like this game because it has a puzzle aspect to it, as well as unique graphics. 2 D graphics are some of the most popular on the App Store because they are less expensive to make, and you can make great games using them…Angry Birds, Cut the Rope, World of Goo…
Gears
Developer: Crescent Moon Games
Price: $1.99**
This game combines stellar graphics with a previously created idea. Games where you try and roll a ball around have been on the app store for about 2 years. But Gears surpasses them all because it has great graphics. These graphics were created using Unity3D, so that explains the awesomeness.
Qvoid
Developer: Raimon Zamora Chanza
Price: $1.99
This puzzle game is based around a simple idea with colors, similar to that of Trainyard. The goal is to move a white cube around picking up all the colors on the grid so you can restore the grid to its original, black and white. This may seem to be prosaic/elementary but it can become quite challenging as you progress through the game.
Storm in a Teacup
Developer: Chillingo
Price: $2.99
A platformer, similar to that of **Little Big Planet, is one of the most interesting of its kind to come out on the App Store. You travel around your world in a teacup (sounds strange, huh?) trying to get past levels the same way one would do in Little Big Planet, minus the Sack guy. It is very good overall, but I don't exactly like the fact it has very minimal story to it.
Rocket Bunnies
Developer: Chillingo Ltd.
Price: $2.99 (iPad), $0.99 (iPhone, iPod touch)
WTF?? Rockets? Bunnies! Are you messing with me? These are some of the rhetorical questions I asked before I looked at the app. It seemed to have received good ratings, despite the incongruous title. And I have to agree with the reviewers. This app proved to be more fun than I expected it to be.
Bumpy Road
Developer:  Simogo Handelsboag
Price: $2.99
Another game I was skeptical of. But this time, my skepticism proved to agree with my actual feelings about the game. I didn't exactly like the whole game play. It was just an idea I didn't like. But since the game was widely congratulated, I felt I should include it as a game to check out because of its widespread accolades. I'm including a reviewer's opinion, in case you want a better in-depth review of the game.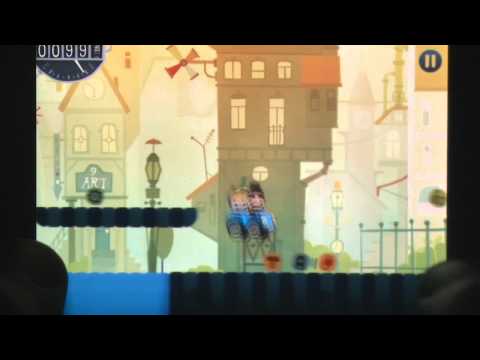 **
Coin Drop!
Developer: Full Fat Productions (What?)
Price: $0.99
If you enjoyed Peggle, you are bound to enjoy Coin Drop!. Though both games share a Pachinko-style inspiration, Peggle is more creative with the idea. This isn't to say Coin Drop!'s version of Pachinko is bad. It wouldn't be on this list if it were bad! It is just different (it lacks Unicorns and Rainbows). I liked this game just as much as I liked Peggle, so I encourage Peggle fans to give this one a try.
Chaos Rings Omega
Developer: Square Enix
Price: $11.99
The sequel to one of the best iOS RPG games is here! More like, was here, but you get the point. This game is not as exciting as the original though, but is just as fulfilling. Both have a good sense of story and graphics are just as good as they were in the original.
6th Planet
Developer: Monkube
Price: $0.99
I debated what to put as the last spot,  but concluded 6th Planet rightfully deserves it. The plot behind the game is that our 6th planet, Saturn, has suddenly become habitable for humans to live. So they send a monkey to go investigate it and make sure it is a good place to live. You play as that monkey, as he explores the new planet in his space ship.
And that concludes my list! You can look at other Top lists here: