Use Your MacBook's Trackpad To Its Fullest Potential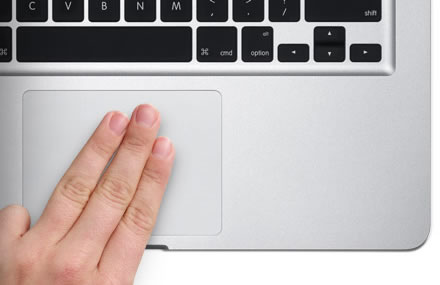 Every MacBook user has most likely grown accustomed to the superb glass trackpad that dominates the bottom portion of the laptop. We have all integrated the multitouch functions into our basic operations. However, what you may not know is that you probably aren't using the trackpad to its fullest power.
Although Apple does provide a few configurable options in the System Preferences app, they do not give you a FULL list of things to change. That's where this certain little application comes into play. BetterTouchTool is a free application that runs in the background while you use your Mac. It runs with a little icon up in the menu bar, which allows access to its quick menu from which a user can change the preferences, check for updates, donate, send a bug report, or quit the application. This application allows a user to set their own multitouch gestures to do certain tasks like changing the volume, changing the brightness of the screen, and any kind of keyboard shortcut. Now instead of doing a strenuous keyboard shortcut, you can instead do a quick little gesture on the trackpad. Not only do you have to set global shortcuts, you can set them per application. This way you can have the same gesture act differently in different apps! For an example of this, I use this application to allow me to use a 'pinch out' and 'pinch in' gestures to toggle full-screen mode in VLC (which isn't a nativly supported gesture). Once you install this, you can do anything with touch gestures.
Get creative, and Happy Clicking! (BetterTouchTool download)