Unhearit – get that DAMN song out of your head with this nifty website!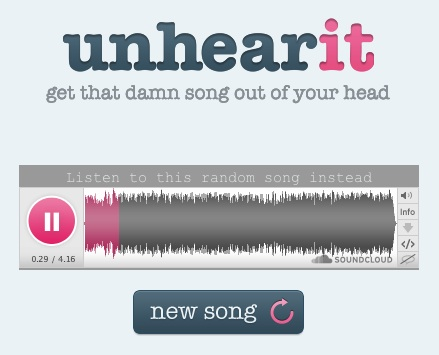 On August 26th of 2010, a man by the name of Tony Gines had a bright idea. This idea was simple, yet not implemented on any other website. This idea was "Unhearit". What "Unhearit" does is "help you get that damn song out of your head" by playing another that replaces it. He probably didn't expect much out of his website, and was shocked to find that Unhear.it got over 2,000,000 hits in a mere two months!
I was one of those 2 million. I was fortunate enough to be able to watch Unhearit slowly develop from a shaky launch to a viral service. Back when it was new, it played a smaller selection of songs (some of which are now removed due to copyright issues), and its domain was Unhear.it. Now, Unhearit boasts an uncountable number of songs, has released a mobile app for iOS, and has changed its domain from Unhear.it to Unhearit.com.
Another surprising characteristic of Unhearit is that the entire website consists of only one page. That's ONE single page, and already Unhearit.com has reached the rank of 521,417 on Alexa. Wow.
Links: