Hide Desktop Clutter on Your Mac With Camouflage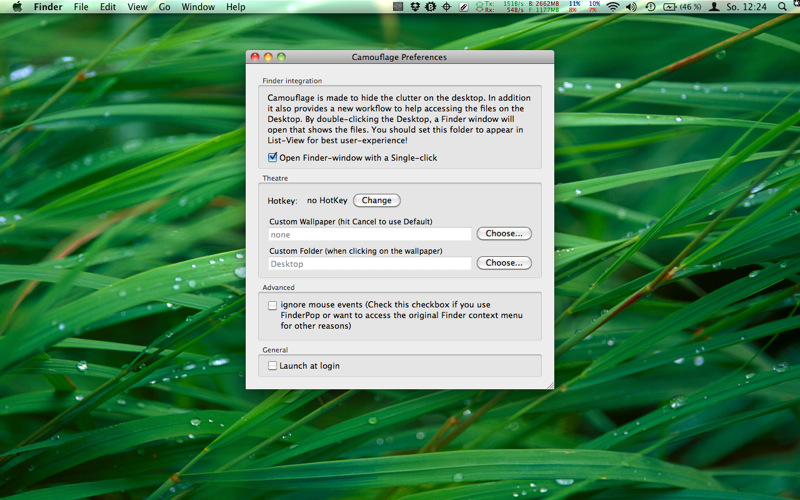 I'm an unorganized slob. My desktop is littered with over 200 folders, images, files, and applications. Just as I was about to lose all hope towards having a desktop that at least appeared clean, I bumped into Camouflage.
Camouflage is a small, effective, and quick Mac application that lets you easily hide all of the icons on your desktop. It's small control button resides in your toolbar, and all you need to do to hide the clutter on your desktop is click the button and select "Hide Icons".
Some great customizable aspects include setting a custom wallpaper to appear when hiding icons, and setting a folder that you want to open when you double-click the icon-free desktop. By default, the camouflage wallpaper is your normal wallpaper, and the Desktop folder will open when you double-click the clean desktop. To navigate to these preferences, you need only to click the toolbar icon and select "Preferences…".
If you find yourself using Camouflage frequently, you can set a hot key for easy on-off toggling.
You can download this nifty utility from the developer's website for free, or from the Mac App Store for $1.99. The free version is actually the older version, but it runs fine on Mac OS 10.4 – 10.6. Although it runs on Lion, it will render Mission Control unusable while Camouflage is running. The new paid version fixes this issue (and you will be supporting a hard working developer).