iWork Now Available On iPhone And iPod Touch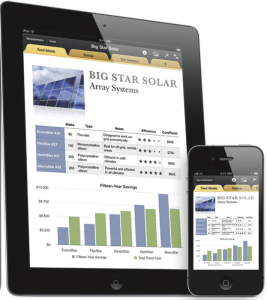 iWork, Apple's office application suite, has finally made it's way to the app store for the iPhone and iPod Touch. The popular iWork application bundle for Macintosh consists of Pages (similar to Microsoft's Word, it allows you to create documents), Numbers (similar to Microsoft's Excel, it allows you to create charts, tables, and other data displaying illustrations), and Keynote (similar to Microsoft's Powerpoint, it allows you to create slide presentations), and costs $79 (USD). In 2010, Apple released a port of the office application suite on the iPad app store. Apple has been holding off on releasing the iWork applications to the iPhone and iPod Touch app store for quite some time now, so it comes as a surprise that they release it now.
The iOS apps for the  iPhone and iPod Touch are selling for $9.99 a piece, so that's $29.97 for the whole collection of iWork apps (not bad considering the original was $79). You might think that it would be absurd to try to create such complicated documents and presentations on these smaller devices, but I have found that its functionality and ease of use is really quite impressive. If you are interested in utilizing some top notch office apps on your iPhone or iPod Touch, I encourage your to check them out and consider buying them.