Now You Can Develop iPhone Apps Free of Cost
It is a great time for anyone to get their hands on the free development of iPhone apps. If you are thinking about it, remember that you would be getting an edge on the competitive market while coming up with your own masterpiece. The only thing an individual requires to develop an iPhone app is a unique and creative idea. Now, you must be wondering how you can develop your own iPhone app free of cost. Well, in this article I aim to explain the process to you.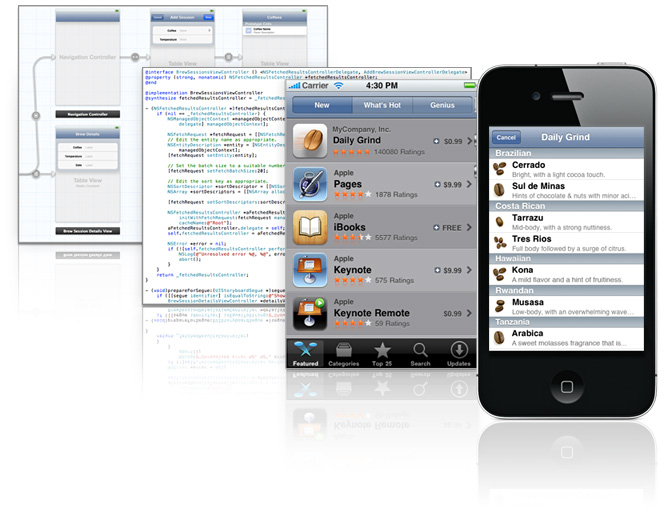 Check Out The Developmental Tools
First and foremost, you need to check out all the vital developmental tools that are presently available in the market. You will get to know that Apple has its own official development platform that is known as the Xcode and the iOS application development kit which can be downloaded anytime and by anyone free of cost. Both of these platforms can be used by people to develop iPhone, iPod Touch and iPad apps. As a developer, you will get to have access to some powerful tools such as interface builder, instruments, iOS Simulator, Xcode IDE and many others. However, you are required to have a Mac device to develop these iOS apps, but it is not essential to have the most robust Mac system. A Mac Mini would be good enough to develop iPad or iPhone apps.
Programs Used
The Xcode platform makes use of the Objective-C programing language for the development of mobile apps. In case you are not aware of what Objective-C is, you can opt for another one called Corona that is marked as a substitute to Xcode and uses a very fundamental programming language. Furthermore, it happens to be an extremely convenient and friendly alternative for newbie's. The biggest advantage of Corona, compared to Xcode, is that it not only supports iOS but Android development as well.
Programming is Vital
You should buy some books related to Java and C++ that will give you a better idea regarding app development and programming. You can look for books over the Internet, and even in the market, that can assist you with simple app development and getting your apps out there in a bang. You should refine your ideas and thoughts to adapt to the best iPhone practices. It is recommended to opt for such applications that are similar to your app idea so that you can easily draw out the screens. You can even make a note of aspects such as where the application went wrong, what kind of flaws it has, and how it can be improvised.
Developing a User-Interface
Developing a graphical user interface for the iPhone is totally different from developing for a PC or the web. You need to keep some vital things in mind such as existence of touch screen, lack of physical keyboard, lack of mouse, and limited screen space. You can even acquire assistance from the 'iOS human interface guidelines' that can be browsed through on Apple's developer site to get some useful techniques and tips. You can also join Apple's developer program where you can easily submit your app to Apple by paying a small subscription free ($99), which would be valid for a year.
Kady Babs is doing CCNP Wireless Certification Preparation and is a freelancer writer attached to Test4Prep, the best source for Cisco Certification Exams Preparation. You can try demos 100% risk free, money back guaranteed.