A while back we reviewed a great service called Grooveshark. While it offers amazing service, some of us crave more. More variety, more features, more songs, more interface. Some of us crave less. Fewer features, simple interface, few distractions. In this post, I aim to compile a list of five more websites where you can listen to music on demand, in unlimited quantity, and for free. I'm sure that at least one of these web services will be your cup of tea.
MixTape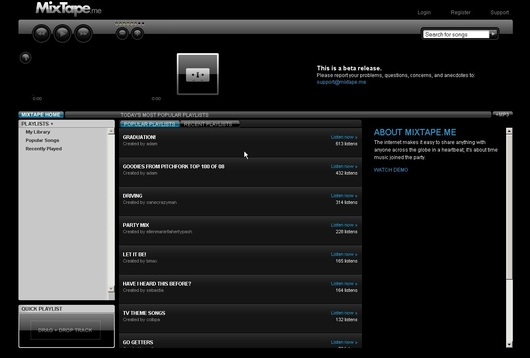 Mixtape scans the web for mp3 files and provides a clean interface for absorbing this media. With Mixtape, you can easily play playlists, create playlists, share playlists, and listen to your favorite songs. A great, unique feature of Mixtape is that it scours the web for relevant information regarding your song including an artist bio, lyrics, album covers, and music videos. Another
Tho only complaint I have about Mixtape is a side effect of looking for an alternative source for a song if the selected one is unavailable. This side effect is that a song with a similar name but by a different artist is sometimes played, which can be somewhat annoying.
Head on over to http://mixtape.me/ to listen to some groovy tunes!
Fizy
With its simple black-and-white interface, Fizy makes it easy to find your favorite tunes and play them in a basic player. Like MixTape, Fizy aggregates music files from around the web and doesn't host any files on its server. Some more advanced features include Last.fm scrobbling, Twitter auto-posting of songs you are listening to, FriendFeed auto-posting of songs you are listening to, and RSS feed generation with updates of your activity. There is also a share button for easy song sharing among a good chunk of social networks (with this comes the generation of links to certain songs in Fizy's library). Occasionally, Fizy will find a music video that corresponds with the song that is playing and will let you play it by clicking a video button.
Rock out to some great tracks at http://fizy.com/.
PlaylistNow
PlaylistNow boasts unique functionality through its main search bar. Instead of a normal search for a song or artist, PlaylistNow search helps you find playlists of songs that go along with the given activity. In addition to this, there is a normal search for songs. PlaylistNow pulls its music off of misc. video sharing sites.
Play songs that go along with your favorite activity at http://playlistnow.fm/
Spool
Spool sports a simple interface with a player, a sidebar, and a search results section. The collection of songs in Spool's realm is vast, with very complete search results for almost any given keyword.
Spool is named "Spool" for a reason. In Spool, there is a feature called "Spools" which basically consists of a couple of webradio chatrooms. I think that it is a very cool concept that I'm sure will become popular when it is stolen by a more prominent web service.
Get some tracks to dance to at http://spool.fm/
YouTube
That's right. The most popular video sharing website of all time has a massive collection of user uploaded music videos that you can listen to and organize into playlists.
I'm sure you know the URL, but here it is anyway: http://youtube.com